【発生研】7/11(木) イルミナNGSセミナー
【IMEG】 July 11(Thu.) Next Generation Sequencer seminar
2019/07/02
イルミナによる次世代シーケンサーの座学セミナー
7/11(木) 14:00〜16:00 イルミナによる次世代シーケンサーの座学セミナーを開催致します。
次世代シーケンサーの原理、アプリケーションの紹介(RNA-Seq、ChIP-Seqなど)、イルミナクラウドサーバを用いた解析など基礎的な内容となっておりますので、NGSに興味のある方、NGSの利用を考えている方は是非ご参加ください。
日時:7月11日(木) 14:00〜16:00
場所:発生医学研究所1階カンファレンスルーム
※参加はどなたでも可能ですが、参加希望の方は7/5までに発生研・臼杵usu@kumamoto-u.ac.jpまでご連絡ください。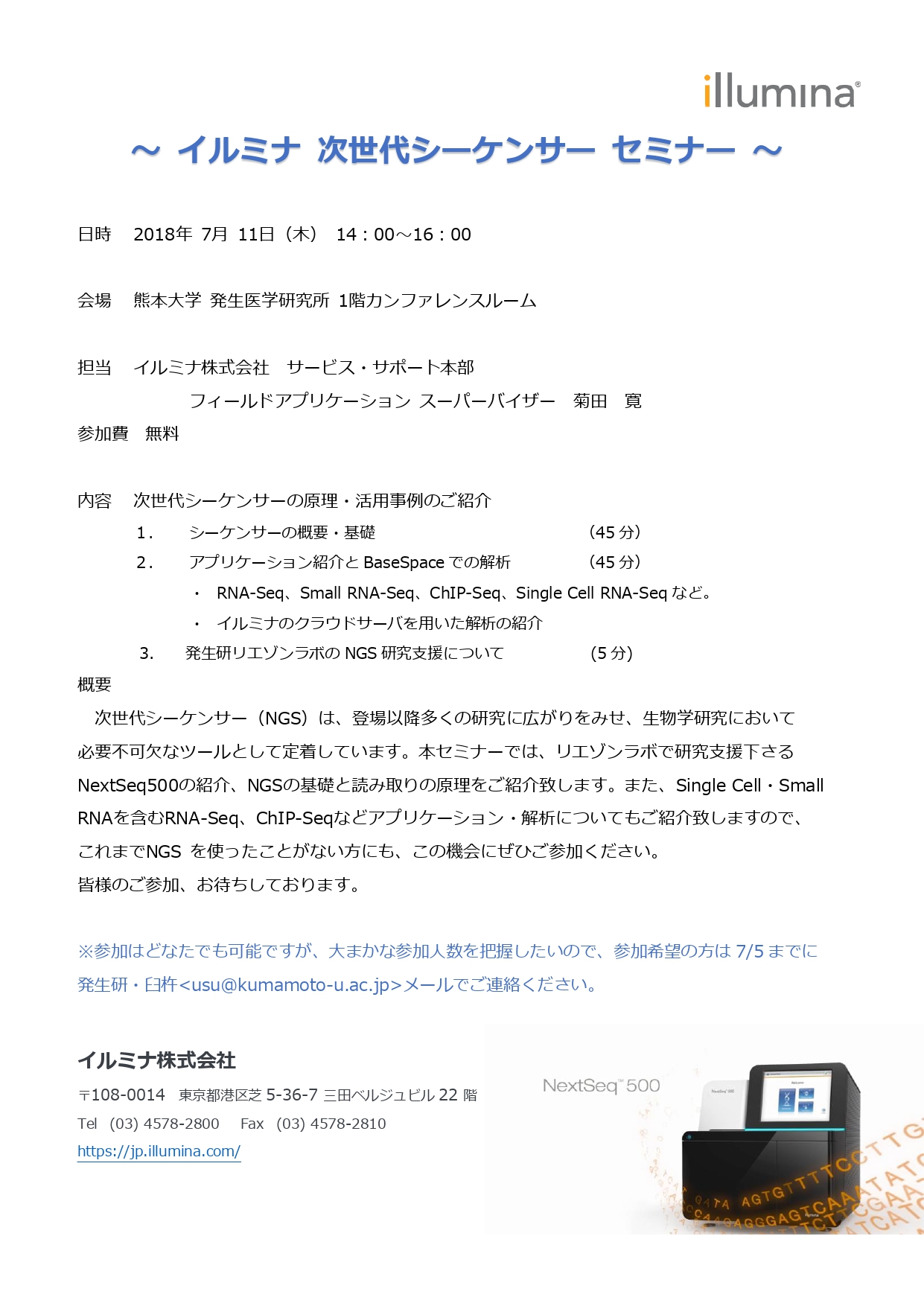 Next Generation Sequencer:NGS seminar

We introduce the basic contents such as the principle of the next-generation sequencer, the application (RNA-Seq, ChIP-Seq etc.), and the analysis using the Illumina Cloud server.

◆Date and Time

Date: July 11 (Thu.)
Time: 14:00-16:00

◆Venue

Conference room

 on the 1st floor at 

IMEG
Please email to the following address by July 5 if you'd like to join this seminar.
usu(at)kumamoto-u.ac.jp (LILA: Usuki)